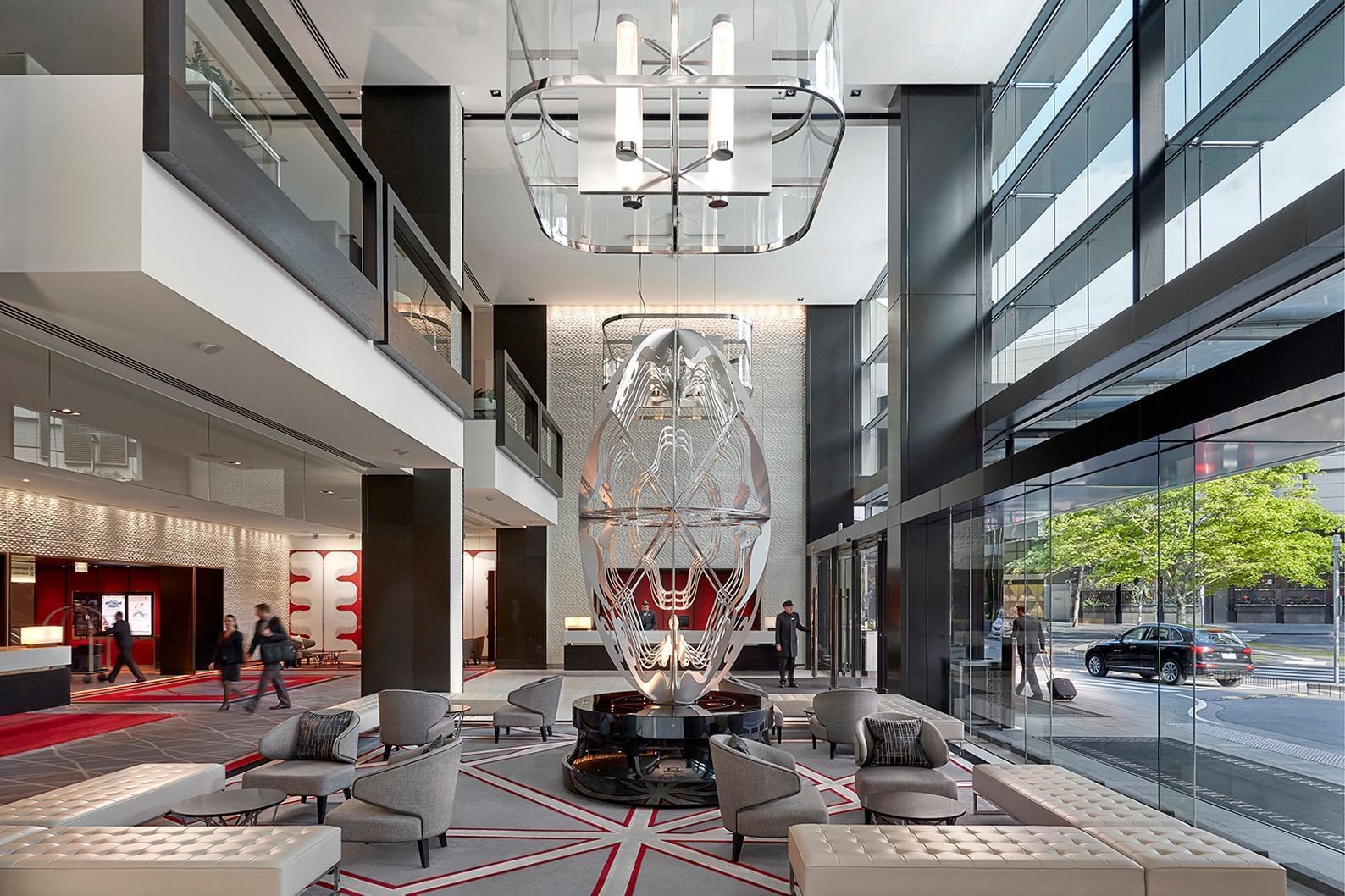 TERMS OF USE
This network of websites (the 'Network') is operated by Crown Melbourne Limited ABN 46 006 973 262 ('Crown'). Your use of any information, images and text contained on the Network (together the 'Material') is governed by these Terms of Use and the Privacy Policy. You acknowledge and accept that your use of the Network indicates your acceptance of these Terms of Use and the Privacy Policy.
1.

VARIATION OF TERMS OF USE

These are the current Terms of Use and replace any previous Terms of Use. Crown may at any time vary the Terms of Use by publishing varied Terms of Use on the Network. You acknowledge that by doing this, Crown has provided you with sufficient notice of the variation of the Terms of Use and that you will comply with the Terms of Use, as varied from time to time and at any time. Since you are bound by these Terms of Use, you should periodically refer to them.
2.INFORMATION ON THE NETWORK
Crown has made reasonable efforts to ensure that the Material is free from error. Crown however does not warrant the accuracy, adequacy or completeness of Material. The Network is intended to provide general information only. Information contained in the Network does not constitute or contain professional or other advice and may contain information that is outdated or incorrect. If you require specific information or assistance please call us on (03) 9292 8888. All Material is subject to change without further notice.
3. COMMUNICATION FACILITIES
3.1 The Network contains communication facilities which provide for feedback by users to Crown, and may contain other electronic messaging and notice services (Communication Facilities).

3.2 It is a condition of your use of any Communication Facility and your access to the Network that you DO NOT do any of the following:

(a) post or transmit any unlawful, threatening, abusive, defamatory, obscene, vulgar, pornographic, profane or indecent information, image, text or other material of any kind whatsoever, including without limitation any transmissions that would constitute a criminal offence, give rise to civil liability or otherwise violate any applicable law;

(b) post or transmit any information, image, text or other material of any kind whatsoever which violates or infringes upon the rights of any other person, without first obtaining permission from the owner or relevant right holder;

(c) post or transmit any Material of any kind which contains a virus or other harmful component;

(d) post, transmit or in any way exploit any Material of any kind for commercial purposes, or which contains any promotional material or advertising;

3.3 Crown may from time to time monitor or review the contents of its Communication Facilities and reserves its right to edit, refuse to post or to remove any Materials (in whole or in part) that in Crown's sole discretion is in any way objectionable or in violation of any applicable law or these Terms of Use. Crown has no obligation whatsoever to monitor any Communication Facility or to edit, delete or refuse to post such contents, nor is Crown responsible for any contents in any Communication Facilities. You expressly acknowledge and agree that the Communication Facilities provide a means of public and not private communications.

3.4 Crown reserves the right to cooperate fully with any law enforcement authority in any jurisdiction in respect of any lawful direction or request to disclose the identity or other information in respect of anyone posting any materials which violate any applicable or relevant law.
4. USER LICENCE TO CROWN
4.1 By placing any information or other material on the Network (including inputting data or engaging in any other form of communication), you grant to Crown a perpetual, royalty-free, non-exclusive, irrevocable, unrestricted, worldwide licence to do the following in respect of the information or material:

(a) use, copy, sublicense, redistribute, adapt, transmit, publish and/or broadcast, publicly perform or display; and

(b) sublicense to any third parties the unrestricted right to exercise any of the foregoing rights granted.

4.2 The foregoing grant includes the right to exploit all proprietary rights in any such information or other material including but not limited to rights under copyright, trademark, service mark or patent laws under any jurisdiction worldwide. You expressly waive in favour of Crown and any other party authorised by Crown all moral rights and any similar rights in any jurisdiction which you may have or hereafter acquire in respect of any relevant communication or other material. At the request and expense of Crown, you will execute and deliver to Crown such instruments and take such other actions as may be required to give full legal effect to this grant of licence and waiver.
5. LINKED WEBSITES
The Network may contain links to other websites operated by third parties (Third Party Websites). Crown does not endorse or approve of the operators of Third Party Websites or the material on Third Party Websites. Crown makes no warranties regarding the accuracy, adequacy or completeness of the material on Third Party Websites. Also, Crown makes no warranties that material on Third Party Websites does not infringe the intellectual property rights of any person or that reproduction of material on Third Party Websites is authorised.
6. HYPERLINKING TO CROWN'S NETWORK
6.1 Unless Crown provides prior written consent, you are prohibited from:
(a) placing a hyperlink to Crown's Network; and/or
(b) saving or otherwise using any of Crown's intellectual property or other property on your web site.

6.2 Crown is not liable for and you must indemnify Crown against all liabilities, claim, actions, demands, suits, costs, expenses, damage, harm or loss, including any consequential losses, suffered or incurred by Crown arising directly or indirectly from or in connection with your use of the Network, particularly any material posted by you in breach of these terms and conditions.

6.3 Nothing Crown does or fails to do in connection with this clause 6, including failing, delaying or exercising a single or part of a right, will prejudice or operate as a waiver of Crown's rights or otherwise prevent the exercise of Crown's rights.

6.4 If Crown provides prior written consent, you must only hyperlink to the Home Page of any of Crown's Web Sites.
7. DISCLAIMER & LIMITATION OF LIABILITY
7.1 The Trade Practices Act and similar State and Territory Legislation in Australia may confer rights and remedies on you in relation to the provision by Crown of goods or services on the Network which cannot be excluded, restricted or modified ('Non-excludable Rights'). Crown does not exclude any Non-excludable Rights but does exclude all other conditions and warranties implied by custom, law or statute.

7.2 Except as provided for by the Non-excludable Rights:
(a) all Materials are provided "as is" and without warranties of any kind, either express or implied;
(b) Crown and its suppliers expressly disclaim all warranties of any kind including but not limited to implied warranties of merchantability and fitness for a particular purpose;
(c) Crown does not warrant that the functions contained in any Material or any Communications Facility or your access to the Network will be uninterrupted or error-free, that any defects will be corrected or that the Network or the server which stores and transmits Materials to you are free of viruses or any other harmful components;

(d) Crown does not warrant or make any representation regarding your access to, or the results of your access to, the Network (including any related or Third Party Websites) or any Material in terms of correctness, accuracy, timeliness, completeness, reliability or otherwise.

7.3 To the fullest extent permitted by law, Crown's liability for breach of any implied warranty or condition which cannot be excluded is limited at the option of Crown to the following:

(a) in the case of services supplied or offered by Crown:
(i) the supply of the services again; or
(ii) the payment of the cost of having services supplied again; and

(b) in the case of goods supplied or offered by Crown:
(i) the replacement of the goods or the supply of equivalent goods;
(ii) the repair of such goods;
(iii) the payment of the cost of replacing the goods or acquiring equivalent goods; or
(iv) the payment of the cost of having the goods repaired.

7.4 Under no circumstances (including but not limited to any act or omission on the part of Crown) will Crown, its officers, employees, agents, contractors or its related entities be liable for any direct, indirect, incidental, special and/or consequential damages, loss, claim, expense or loss of profits whatsoever which result from any use or access, or any inability to use or access, or misuse by you or any other party, of the Network or otherwise in connection with any material or the Communication Facilities.
8. INTELLECTUAL PROPERTY RIGHTS
All Material on the Network is protected by copyright and other intellectual property rights, whether registered or unregistered. The copyright is owned by Crown, companies related to Crown or third parties. No Material contained on the Network may be modified, copied, transmitted, distributed or reproduced without the prior written approval of Crown. You must not use the Network in any manner or for any purpose which is unlawful or in any manner which violates any right of Crown, a related entity of Crown or relevant third party or which is prohibited by these Terms of Use.
9. TERMINATION
These Terms of Use and your access to the Network may be terminated at anytime by Crown without notice. All restrictions, disclaimers and limitations of liability by Crown will survive termination, however, you will be no longer authorised to access the Network.
10. GENERAL
These Terms of Use are governed by and construed in accordance with the laws of Victoria, Australia. You irrevocably and unconditionally submit to the non-exclusive jurisdiction of the courts of Victoria. If any provision of these Terms of Use is found to be invalid or unenforceable by a court of law, such invalidity or unenforceability will not affect the remainder of the Terms of Use, which will continue in full force and effect.
Privacy Collection Statement: Crown collects your personal information for purposes directly related to our functions or activities including, providing you with special offers, obtaining your feedback, marketing and to communicate with you. Your personal information may be disclosed to our related bodies corporate and third party services providers, which may include those located overseas. Please refer to Crown's Privacy Policies for full details including how you may access your personal information and/or complain about a privacy breach. A reference to Crown includes Crown Melbourne, Crown Perth and Crown Sydney.
PCI DSS Compliance
The world's major credit card schemes (VISA, MasterCard and American Express) have introduced the Payment Card Industry Data Security Standard (PCI-DSS) which is a global information security standard applying to all organisations that store, transmit or process credit card information. The standards have been developed to help protect our patrons and staff members from fraud and identity theft by ensuring that credit card data is handled securely throughout all transactions and interactions including Point of Sale, phone, online e-commerce and via email. Therefore, please refrain from sending credit card details via email to Crown Resorts.