Crown Aviary is Melbourne's most exclusive wedding venue located on the Level 3 rooftop at the award-winning Crown Towers. Designed to accommodate up to 550 people in a cocktail setting, this space is complete with a fully heated and air-conditioned outdoor terrace offering views of the Melbourne city skyline to create a memorable wedding experience without compromising on comfort.
This package is available exclusively for weddings held in the Crown Aviary.
Aviary Cocktail Wedding Package: $165 per person*
Dedicated Crown Wedding Manager
Selection of ten canapés
Three substantial canapés
Antipasto station or canapé style dessert station
Four hour Crown Reserve beverage package
Cakeage (served on platters)
Present, and cake tables
Dance area and stage for band or DJ
Lectern and microphone
Compliance Officer
Three Security Officers
Complimentary accommodation for the newlyweds at Crown Towers Melbourne
*Terms and conditions: Package exclusive to weddings booked in the Crown Aviary. Please note minimum spend applies. Valid for any new weddings contracted and held before 30th June 2023. Events are subject to Crown Events and Conferences General Terms and Conditions which are available on request. Menus and prices are valid to 30th June 2023 and are
subject to change. Security officer/s for a maximum of six hours and one Compliance Officer for a three hour duration is included. Additional security guards required to be present at your wedding as deemed necessary by Crown are charged at a cost to the client. Complimentary menu tasting (maximum four guests) available for weddings with a minimum of
150 guests. Dietary requirements - Crown will make every effort to cater for guests with special dietary requirements, i.e. vegetarian, vegan, low gluten or lactose intolerant or allergies at no extra charge*. Any other additional special meal requests will incur a $25 surcharge per person. Please note charges may also apply for religious requirements including
but not limited to Kosher and Halal requests. A final list of dietary requirements is required in writing ten (10) standard business days prior to your event. *Important notice - While Crown will endeavour to accommodate requests for special meals for customers who have food allergies or intolerances; we cannot guarantee completely allergy-free meals due to
the potential of trace allergens in the working environment and supplied ingredients. Gluten free meals also cannot be guaranteed however requests for meals which are low gluten can be accommodated.
Complimentary accommodation for the newlyweds on their wedding night in a Deluxe King room at Crown Towers Melbourne. Accommodation is subject to availability. Images for illustration purposes only.
Benefits
Selection of ten canapes
Cakeage (served on platters)
Dedicated Crown Wedding Manager
Four hour Crown Reserve beverage package
Complimentary accommodation for the newlyweds at Crown Towers
Present and cake tables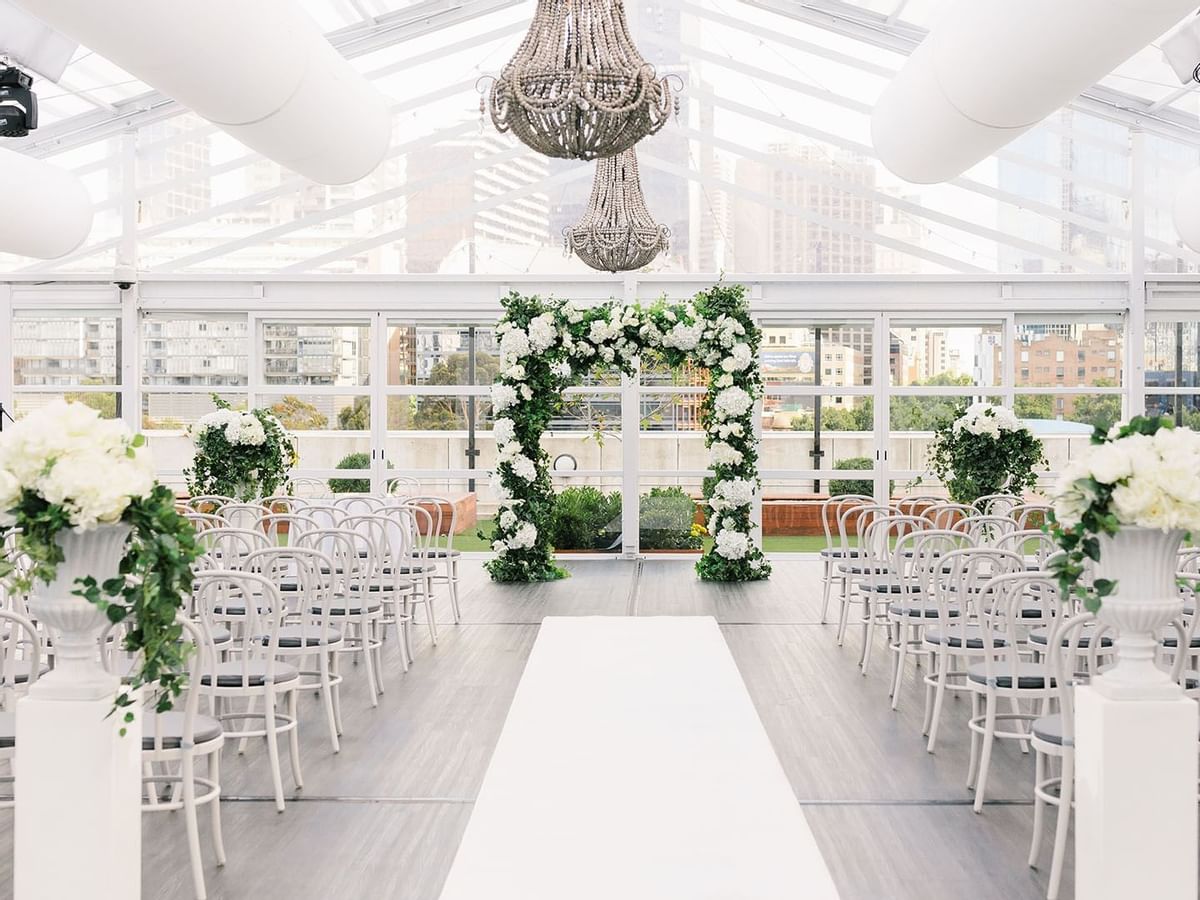 View all our wedding packages