Operating under the strict Rabbinical supervision of Kosher Australia, Crown offers a variety of tailored menus from our in-house kosher kitchen, as well as a range of venues to suit your individual style.
Classic Kosher Wedding Package: $229 per person*
Dedicated Crown Wedding Manager
Selection of six canapés per person
Three course set Kosher dinner menu including an alternating main course
A selection of two sides (four bowls per table)
Five hour Wine and Spirits Corkage package (couple provides own wine and spirits)
Portable bar inside the function room (space permitting)
Five hour beer and soft drinks package
Freshly brewed coffee, selection of teas and chocolates
Cakeage (served on platters)
Black or white chair covers
Personalised table menus
Black or white table linen
Kosher crockery and cutlery
Wedding party, present, and cake tables
Dance floor and stage
Lectern and microphone
Compliance Officer
Security Officer
Complimentary accommodation for the newlyweds at Crown Towers Melbourne
Supervision by Kosher Australia.
*Terms and conditions: Package exclusive to weddings booked in the Palladium and River Room. Please note minimum spend applies per function room. Valid for any new weddings contracted and held before 30th June 2023. Events are subject to Crown Events and Conferences General Terms and Conditions which are available on request. Menus and prices are valid to 30th June 2023 and are subject to change. Security officer/s for a maximum of six hours and one Compliance Officer for a three hour duration is included. Additional security guards required to be present at your wedding as deemed necessary by Crown are charged at a cost to the client. Dietary requirements - Crown will make every effort to cater for guests with special dietary requirements, i.e. vegetarian, vegan, low gluten or lactose intolerant or allergies at no extra charge*. Any other additional special meal requests will incur a $25 surcharge per person. A final list of dietary requirements is required in writing ten (10) standard business days prior to your event. *Important notice - While Crown will endeavour to accommodate requests for special meals for customers who have food allergies or intolerances; we cannot guarantee completely allergy-free meals due to the potential of trace allergens in the working environment and supplied ingredients. Gluten free meals also cannot be guaranteed however requests for meals which are low gluten can be accommodated. The maximum spirits that can be provided is one 750ml bottle per ten adult guests. All beverages provided must be approved by Kosher Australia.
Complimentary accommodation for the newlyweds on their wedding night in a Deluxe King room at Crown Towers Melbourne. Accommodation is subject to availability. Images for illustration purposes only.
Benefits
Three course set Kosher dinner menu including an alternating main course
Freshly brewed coffee, selection of teas and chocolates
Personalised table menus
Dedicated Crown Wedding Manager
Complimentary accommodation for the newlyweds at Crown Towers
Kosher crockery and cutlery
Address
8 Whiteman Street, Southbank VIC, Australia
Phone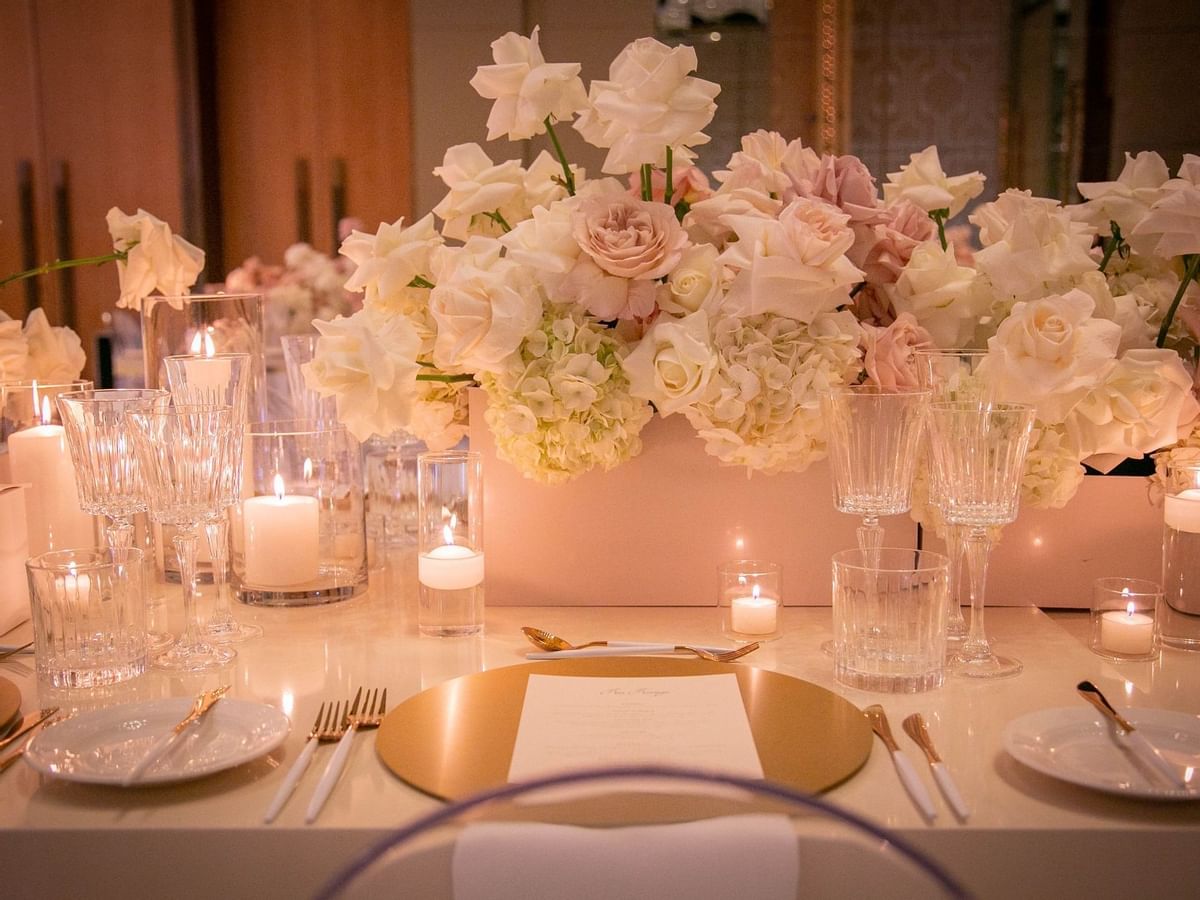 View all our wedding packages